Happy Full Moon in Aquarius! And happy Sun in Leo!
Today's NASA picture from the New Horizons Spacecraft is Pluto with "his" Full Moon, Charon.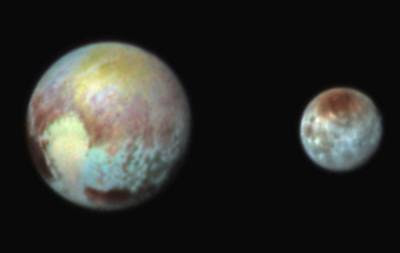 Golden Days
Lammas is upon us.
Dog Star rises in the East,
Full Moon sets in the West.
Awaken now to Golden Days!
Harvest is upon us.
The fullness of summer
Yields ripeness to the scythe.
Awaken now to Golden Days!
Cross-quarter is upon us.
Solstice to Equinox half-way through.
Long days begin to yield at last.
Forget not now these Golden Days!
Autumn is fast upon us.
Falling leaves remind the time.
Cycles within cycles ticking past.
Forget not now these Golden Days!
©2015 Richard W. Bredeson. All rights reserved.

Happy Birthday to me! And to Richard! And to Tristan!
This is a big weekend for celebrating Leo birthdays in our family. We will have our whole family together to celebrate in Maryland. Exciting times!
And the Full Moon was yesterday, Friday, July 31, 2015 at 6:42 am Eastern Daylight Time. This is a time when the Moon in the sign of Aquarius is directly opposite the Sun in Leo. This Sun brings up our personal creativity and the Moon couples that with the Aquarius energy of collaboration for the good of all humanity.
What can you create that benefits others? This time of creativity is to remind us that we are all One, not separate but interdependent members of this tribe called 'humanity.'
When the Moon is Full it is reflecting the most Sunlight that it can. How can you shine your inner light more brightly into the outer world? Are you living your purpose, your mission, your gifts?
This is also the time to release what is holding you back from Living Your Richest Life™. Where are the blocks, the doubts, the fears keeping you from your joy? What are the possibilities that you cannot see because something is clouding your view?
Because it's MY BIRTHDAY this weekend, I am making a special offer to you! If you would like to get some personal guidance about your purpose, your blocks, where your next step will take you, I would love to support you. Schedule a READING WITH ROSEMARY for only $150. My clients work with me for months to connect to the possibilities that they don't know they don't know so I don't usually offer a one-time session. But my guidance is to offer this to the first 10 members of RosemarySpace who claim one of these readings. Are you ready to learn more about your next step? We'll meet via videoconference (because I would love to see your smile!) or telephone and you will get a lot of valuable wisdom to help you to move forward in business, relationships, life. Here's how to claim your reading today: Claim Link
The planets are lining up in the next few days to support you in reassessing where you are and what the possibilities are for your future. Are you willing to figure out the fears that hold you back and to take that leap forward that you have been waiting to take? Now is the time!
Once in a 'Blue Moon' you get this opportunity – this is the month with a Blue Moon and today is the day! (A Blue Moon happens when there is a second Full Moon in one calendar month. The first one in July happened on July 1.) The theme of this Blue Moon is 'how the power of individual intention and the force of collective consciousness combine to create our reality' – from The Mountain Astrologer. Get your intention lined up with your purpose so you can shine your Light in the world and create the reality you desire!
The Leo New Moon is coming on August 14 at 10:53 am Eastern Daylight Time. Get clear about your intentions before then by clearing what is in the way. You don't want to carry any old energies with you into the generous energy of newness at the next New Moon!
Until then.
Happy New Moon in Cancer!
Today's NASA picture comes all the way from Pluto and the New Horizons Spacecraft.
Emerge
Iceberg
Submerged.
Waiting in silence,
Keeping ships
At a distance.
Old moon
Submerged.
Melting to nothing,
Lighting no path
For homecoming.
Shadow
Submerged.
Covering up proof,
Offering the lies
As if Truth.
The Light
Lets all emerge.
Lifting the shadow,
Lighting new moon,
Melting the ice.
©2015 Richard W. Bredeson. All rights reserved.

How exciting that we are getting pictures of Pluto from close up? Wow! As we learned with the Hubble Space Telescope, what we can see from Earth can be distorted by the atmosphere. But having a spacecraft camera travel that far to take a close up shot is very exciting. What will we learn?
Yesterday's New Moon in Cancer happened at 9:26 pm Eastern Daylight Time. This means that the Sun and Moon are together in the sign of Cancer and the Earth's shadow covers the Moon so that it does not reflect Sun's light. The Dark of the Moon is a special time of potency. We, on Earth, are receiving pure Moon energy – feminine, nurturing, emotional.
We are invited to ask ourselves 'What feeds my soul?' Look at your values and how they are being demonstrated by how you spend your time. Do you need to do some adjusting in your priorities, in your schedule?
In addition, Mercury, Mars, Uranus and Pluto are playing together in the second half of July to give us a chance to make the visions of the 60s about peace, equality and the environment become grounded in the 21st Century. What can you do?
Remember that the New Moon is the time to invite something NEW into your life. What are you ready to welcome? Maybe it's time to get rid of limiting beliefs and think new thoughts. As always, Rosemary is available to help you figure out that next step beyond the blocks that hold you stuck. Email her for more info on private sessions:rosemary@thescientificmystic.com
This is a special month for our family! We have two grandchildren having birthdays, Makayla (18) and Tristan (1). What a joy grandchildren are! And we get to celebrate with both of them! And on July 22nd Rosemary & I celebrate our 32nd Wedding Anniversary. We will celebrate all of these special days!
Essential Oils Class: FREE online class on Thursday, July 16 at 3:00 pm Eastern Daylight Time. Kiyla Fenell will be joining us from Tulsa, OK to teach about using Essential Oils in your daily wellness regimen. We'll be sharing story after story of ways people are benefiting from using Essential Oils and how you, too, can replace your medicine cabinet with natural plant medicine. More details here and the link to register (a recording will be available but you must register to receive it):www.thescientificmystic.com/essentialoils
Sneak Peek: This Fall we will be offering a free telesummit, exploring with successful entrepreneurs the spiritual practices that keep them centered and balanced. Stay tuned for more info!
If you enjoy these posts from Rosemary's MoonLetters, please share them with your friends and invite them to get their own copy. When you Subscribe Here you also receive a gift from her, a 7-minute meditation to help you ease out of tension and stress!
Happy Full Moon in Capricorn!
Today's Hubble picture is a recent one of the Pillars of Creation. Stars are being born deep inside the pillars, a small part of the Eagle Nebula, a vast star-forming region 6,500 light-years from Earth.
Rhythms
Full moon rising,
Climbing as a goat
Up the mountain of the sky
Riding high, beaming Sunrays
Back to Earth, light for the Dark Way.
Half-year passing,
Fading as a flower.
Ripening fruit-time in full force
Nourishing Earth energy pushing
Life to feed the seed to feed life.
Old man rejoicing,
Vigorous as a stoat,
Living the dream, dreaming life
Back into fading years
Shedding no tears, full force rising!
©2015 Richard W. Bredeson. All rights reserved.

This Full Moon at 09 degrees Capricorn, opposite the Sun at 09 degrees Cancer, invites us to look at what we expressed as our desires at the last New Moon (June 16) and release any remaining blocks to manifesting those desires. The Full Moon happened at 10:22 pm Eastern Daylight Time on Wednesday, July 1, and ushered in the time to determine what to let go of as we get down to work for the next two weeks.
How are you taking care of yourself? (Cancer) What are your tasks, your REAL work, your objectives? (Capricorn) Do your assessment as you also pay attention to the fact that everyone around you will be experiencing the effects of this Full Moon, knowing about it or ignorant of it. Drive defensively!
The Sun is dancing with several other planets in the period between this Full Moon and the next New Moon on July 15, making early July a good time to look for the areas where big change is needed in your life. Are you ready?
If you are wondering how this Summer is asking you to change, then schedule a reading where we can explore your next step. Send me an email at rosemary@TheScientificMystic.com for details. Isn't it time that you got everything out of the way of your Living Your Richest Life?
And look up at the sky! The Moon, Venus and Jupiter have been playing nicely together. It is a wonder of lights to behold!
PS: You can receive this information earlier by subscribing to Rosemary's MoonLetter. When you do you receive a 7-minute Destress Meditation instantly! Subscribe Here